Delicious and Easy-to-Make Cocktails to Wow Your Guests at the New Year Party
Categories: HEALTH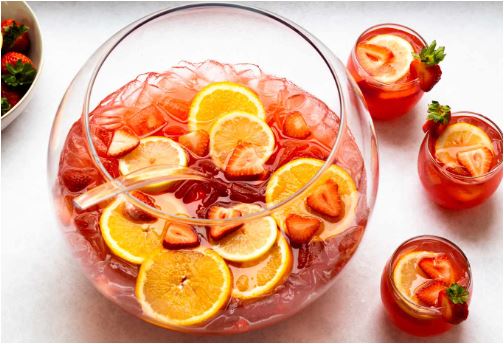 The expectation of festivities grows as the New Year draws near. Whether you're throwing a large party or a small get-together, pouring delicious cocktails may make the occasion more memorable. These simple-to-make drinks, which range from traditional recipes to creative combinations, will wow your guests and turn your New Year's celebration into an unforgettable event.
1. Champagne Cocktail Bliss: The Sparkling Star
Serve the Sparkling Star to kick off the evening in a classy manner. The gentle sweetness of elderflower liqueur pairs well with the fizz of bubbly in this delicious champagne cocktail. Just pour chilled champagne into a flute and top it off with a dash of elderflower liqueur to make this bubbly pleasure. For an extra zest that will leave your guests wanting more, garnish with a twist of lemon.
2. A Citrus Infusion: The Lively Lemon Drop Martini
The Lively Lemon Drop Martini is the ideal option for individuals who want a tart twist. The freshness of lemon juice, the smoothness of vodka, and a touch of sweetness from simple syrup are all combined in this zesty cocktail. Add a sugar rim to the glass for an elegant finishing touch. This cocktail's vivid yellow colour will definitely give your New Year's Eve spread a splash of colour.
3. Tropical Indulgence: The Exotic Pineapple Mojito
With the exotic pineapple mojito, you may whisk your visitors away to an island paradise. This tropical treat creates a symphony of flavours that is both exhilarating and decadent by combining the sweet pineapple juice with the refreshing flavours of mint and lime. For an eye-catching appearance that embodies the festive mood, serve it in a highball glass over crushed ice and garnish with a pineapple wedge and a sprig of fresh mint.
4. Timeless Sophistication: The Classic Old Fashioned
The Old Fashioned is a classy option that never goes out of style for people who value classics. This drink, which combines bourbon, sugar, bitters, and an orange peel twist, is the epitome of sophisticated flavour. To make, muddle some bitters and sugar cube in a glass, then pour in the bourbon and swirl over ice. Add some orange peel as a garnish to make a drink that will please even the pickiest palates—one with the ideal harmony of flavours.
5. Elegant and Refreshing: The Cucumber Mint Gin Fizz
Add a hint of sophistication with the Cucumber Mint Gin Fizz. Cucumber crispness, mint's energising essence, and gin's botanical overtones come together in this delightful cocktail to create a light and energising drink. To make this elegant drink, muddle the mint and cucumber in a shaker, then pour in the gin, simple syrup, and lime juice. Shake well with ice. Pour through a strainer into a highball glass and top with soda water to create a delightfully refreshing beverage that will awaken your senses.
6. Sensational and Seductive: The Passionfruit Margarita
The Passionfruit Margarita will give your celebration a touch of the tropics. This amazing cocktail creates a tart and tantalising drink by combining the exotic sweetness of passionfruit with the powerful flavours of tequila. In a shaker with ice, combine tequila, lime juice, triple sec, and pureed passionfruit. Shake well. For a striking display that accentuates the vibrant flavour of this delicious cocktail, rim the glass with salt.
7. Sweet Indulgence: The Decadent Chocolate Espresso Martini
Enjoy a decadent chocolate espresso martini to cap off the evening. This decadent cocktail is ideal for sating your visitors' sweet tooths since it combines the richness of coffee with the decadence of chocolate. It tastes like dessert. Blend espresso, simple syrup, coffee liqueur, and vodka with ice until very cold, then strain into a martini glass. Add some coffee beans as a garnish to create a tantalising aroma that will entice your guests to stay longer.
Conclusion:
You may impress your friends and produce a memorable New Year's Eve celebration with these delicious and simple cocktail recipes. These tasty creations, which range from the tropical attractiveness of a pineapple mojito to the dazzling charm of a champagne cocktail, are sure to make your party one to remember. So raise a glass with these delicious drinks, which will wow even the pickiest palates, as you get ready to greet the New Year. To a fun-filled and festive event!