Diwali Fashion Guide: Dressing Up for the Festive Season
Categories: OTHERS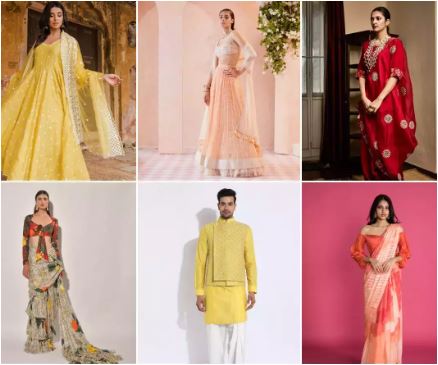 It's time to show off your excellent style and embrace the festive mood as Diwali, the brilliant festival of lights, draws near. One of the biggest celebrations in India, Diwali, is known for bringing happiness, illuminating houses, and, of course, dressing to impress. There are many alternatives to pick from when it comes to dressing up for the festivities, ranging from modern fusion designs to traditional ethnic clothes. In order to make a lasting impact on this festive occasion, this Diwali Fashion Guide will assist you in navigating through the newest trends and timeless classics.
Traditional Elegance: Sarees and Lehengas
During the festive season, sarees and lehengas are the ideal options for women to radiate classic charm. Diwali is the ideal time to show off expensive, traditional fabrics like georgette, silk, and brocade that are embellished with zari work, elaborate embroidery, and other details. For a subtle yet sophisticated style, choose pastel hues with fine details or bold hues like royal blues, deep reds, and rich greens. Try with various saree draping techniques, and don't be afraid to match your lehengas with chic blouses to give the classic look a modern update.
Contemporary Chic: Anarkalis and Palazzos
The go-to options for a chic yet cosy Diwali ensemble are palazzos and anarkalis for individuals who like a mix of heritage and contemporary. For a bit of drama, go for anarkalis with bold sleeves, asymmetric hemlines, and modern shapes. Alternatively, go for palazzos with embroidered kurtas for a fusion-inspired ensemble. Try out some unusual colour schemes and layering strategies to make a statement that embodies your own sense of style.
Stylish Men's Wear: Kurta Sets and Bandhgalas
With timeless and chic bandhgalas and kurta sets, men can up their Diwali style game. There are lots of alternatives to pick from, including stylish silk bandhgalas and colourful embroidered kurtas. Try varying the textures, patterns, and colours of your outfit. Don't be afraid to add classic stoles, brooches, or eye-catching shoes as accessories. Make a statement with rich jewel tones for a regal and captivating look, or go for milder hues like white, beige, and delicate pastels.
Accessorizing Right: Jewelry and Footwear
A Diwali ensemble would be incomplete without the ideal accessories to go with it. Statement necklaces embellished with pearls, Kundan, or precious stones, chandelier earrings, and maang tikkas are some examples of jewellery that can add a dash of dazzle. For a dash of comfort and style, opt for embellished sandals, mojaris, or classic juttis for your footwear. To complete your festive appearance, don't forget to bring along an embroidered clutch or potli bag.
Makeup and Hairstyles: Embracing Elegance
To complete your festive look, accessorise your gorgeous outfit with the appropriate cosmetics and hairstyle. Go for a bright, dewy makeup look with touches of gold or bronze, along with strong, defined eyes and a gentle, neutral lip colour. Try out several elaborate hairstyles, such flowery accents, braided updos, or traditional loose curls, to infuse your look with sophistication and elegance.
Festive Trends: Fusion Fashion and Sustainable Choices
Eco-friendly and sustainable fashion alternatives have been increasingly popular for Diwali costumes in recent times. Choose recycled materials, organic textiles, and handloom fabrics to create a look that embodies your environmental consciousness. Try wearing fusion clothing to create a distinctive and cutting-edge look that speaks to your ideals and uniqueness. Fusion clothing combines classic and contemporary features.
Here are some additional tips for dressing up for Diwali:
1. Choose the right fabric: The fabric is an important factor to take into account when selecting an outfit for Diwali. For the warm weather, lightweight, breathable materials like cotton, georgette, and chiffon work best. If the gathering is formal, you may also decide to wear thicker materials like silk and brocade.
2. Pay attention to the fit: You should feel comfortable and well-fitted in your Diwali attire. Steer clear of clothing that is overly tight or baggy. You should be able to move freely in your attire because you will probably be dancing and walking a lot.
Conclusion:
Diwali is a moment to appreciate diversity and the rich cultural history through clothing as much as it is a festival of lights and celebrations. Whether you lean towards modern chic or classic elegance, the secret is to choose outfits that express your individual style and give you a sense of self-assurance. During the holiday season, you can easily dazzle and leave a lasting impression by wearing the appropriate clothing, accessories, cosmetics, and haircut, brightening everyone you meet. Accept the Diwali spirit, rejoice with your loved ones, and let your wardrobe selections to reflect the festive mood of the festival of lights.