Top Navratri Outfit Ideas for Embrace the Festive Spirit in Style
Categories: OTHERS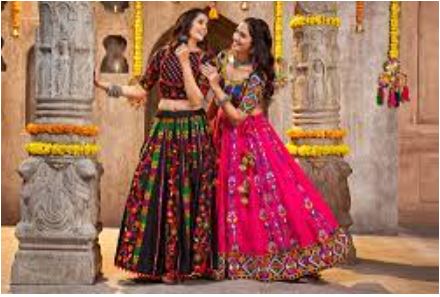 India celebrates Navratri, a colourful and joyful festival, as a time to honour heritage and culture. From the vivacious Garba and Dandiya dances to the vibrant and ornate decorations, this celebration exudes a positive vibe. One of the many wonderful elements of Navratri is the chance to dress up in lovely traditional clothes. This Navratri, there's no need to ponder how to stand out with your attire.
Here are some top Navratri outfit ideas to help you embrace the festive spirit in style.
1. Embrace the Elegance of the Traditional Chaniya Choli
During Navratri, it is customary to wear the Chaniya Choli, a traditional Gujarati outfit. A fitted blouse, a flared skirt, and a dupatta make up this three-piece outfit. Pick vivid hues like regal blues, blazing reds, or vivacious yellows to stand out. To give your ensemble an extra touch of opulence, choose mirror work, elaborate embroidery, or classic bandhani designs.
2. Mesmerize with the Timeless Saree
For any festive event, including Navratri, a well-draped saree never goes out of style. For ease of movement while dancing, choose lightweight fabrics like chiffon, georgette, or silk. Try experimenting with strong and vibrant colours to reflect the joyous mood. To finish the look, accessorise your saree with bold pieces of jewellery like massive silver earrings or oxidised necklaces.
3. Radiate Simplicity with the Graceful Garba Attire
The Garba outfit is the ideal alternative for individuals who value simplicity over sophistication. A bright, embellished choli is generally worn with a colourful, embroidered ghagra or a plain skirt in this traditional attire. Enhance your appearance with a maang tikka or conventional jhumkas.
4. Make a Statement with the Modern Fusion Look
A fusion dress can easily combine classic and modern aspects for those who enjoy playing around with their wardrobe. Think of wearing a fashionable crop top with a flared skirt or layering an embroidered floor-length blazer over a plain lehenga. A distinctive, eye-catching outfit that expresses your personal style can be made by combining classic and modern features.
5. Dazzle in an Anarkali Suit
The royal and beautiful elegance of anarkali suits is well known. Choose a floor-length Anarkali suit with fine mirror work, zari details, or delicate embroidery to radiate refinement and style. To make a strong impression, choose vivid hues like purple, emerald, or flaming orange.
6. Add a Contemporary Twist with Palazzo Sets
Palazzo sets are a fantastic option for those looking for comfort without sacrificing beauty. Select a well-fitting, embroidered kurta to go with a palazzo that is colourful and patterned. The traditional clothing has been given a modern twist that offers the ideal balance of ease of wear and cutting-edge elegance.
7. Enhance Your Look with Exquisite Accessories
An attire for Navratri is not complete without the ideal accessories. To complete your selected combination, think about accessorising yourself with elaborate oxidised jewellery, beaded necklaces, or vibrant bangles. To finish your appearance, don't forget to add a splash of colour with a vivid clutch or a classic potli bag.
8. Elevate Your Hairstyle with Traditional Accessories
Try traditional hairstyles ornamented with flowers, beads, or ornate hairpins to enhance your entire appearance. Your Navratri outfit can be wonderfully completed with the addition of a nicely braided bun and fresh flowers for a sense of tradition and elegance.
9. Footwear That Blends Comfort and Style
Comfort should be your top priority while choosing footwear for Navratri because the celebrations and dancing might last for hours. Choose vibrant mojaris, embroidered juttis, or cosy wedges to infuse your look with tradition and style.
10. Embrace the Spirit of Navratri with Confidence
Ultimately, wearing your outfit with confidence is the secret to a gorgeous Navratri style. Let the colour and vibrancy of your attire convey the celebration and festival mood. Be daring in your selections, play around with colour, and let your outfit reflect your individuality.
In conclusion, Navratri is a celebration of culture, tradition, and togetherness. These top Navratri outfit ideas offer a diverse range of options to help you embrace the festive spirit in style. Make a fashion statement that will be remembered during Navratri by donning one of these gorgeous costume ideas and joining in the celebrations.