Shardiya Navratri 2023
Categories: OTHERS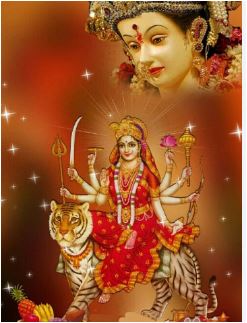 Shardiya Navratri 2023: Recognising the Divine Power
Maha Navratri, often referred to as Shardiya Navratri, is a prominent Hindu holiday that is joyfully observed. It commemorates the nine-night festival honouring the goddess Durga, a representation of heavenly authority and feminine vitality. Due to the fact that it falls around a number of significant holidays and occasions in 2023, Shardiya Navratri will always maintain a special place in the hearts of millions of devotees. The significance of Shardiya Navratri, the customs, and how it will be observed in 2023 will all be covered in this article.
The Significance of Shardiya Navratri
The festival of Shardiya Navratri, which takes place in the lunar month of Ashwin (September–October), represents the victory of good over evil. The term "Navratri" literally means "nine nights," and this is the time when Goddess Durga is called and adored in all of her manifestations. These nine nights stand in for the conflicts between the Goddess and the demon Mahishasura.
The Dates of Shardiya Navratri 2023
Shardiya Navratri 2023 is anticipated to start on October 15 and end on October 23 in 2023. A number of rites, fasts, and festivities are observed during this time period, which is seen as extremely fortunate.
Navratri Celebrations across India
The varied ways that Shardiya Navratri is observed throughout India is one of its most notable features. Every region has a distinctive style of honouring the Goddess, from the lavish festivals in Gujarat with their well-known Garba and Dandiya Raas dances to the well-known Durga Puja in West Bengal.
The Divine Feminine: Worship of Goddess Durga
The main deity at Shardiya Navratri is Goddess Durga. She is represented as a fierce goddess with many arms who rides a lion and carries weapons. Every one of her manifestations has a special meaning and is honoured on particular Navratri days:
Day 1: As the daughter of the Himalayas and the personification of nature, Shailputri, Durga's original form, is revered.
Day 2: Brahmacharini - This form represents Goddess Durga in her unmarried, penance-seeking form, symbolizing love and loyalty.
Day 3: Chandraghanta - The strong manifestation of the Goddess, who battles against evil and negativity, is honoured on the third day.
Day 4: Kushmanda - The Sun is thought to be the home of the goddess Kushmanda, who is revered as the universe's creator.
Day 5: Skandamata – This figure symbolises Lord Kartikeya (Skanda), the God of War, and his mother.
Day 6: Katyayani - Katyayani is the warrior form of Durga, and her worship signifies valor.
Day 7: Kalaratri - This form is the fiercest and represents the annihilation of ignorance and evil.
Day 8: Mahagauri - This form is characterized by her purity and is believed to bring peace and prosperity.
Day 9: Siddhidatri - The goddess Siddhidatri, who bestows knowledge and superhuman abilities, is revered on the last day.
Fasting and Rituals during Shardiya Navratri
During Shardiya Navratri 2023, many followers fast, refraining from eating particular meals for the full nine days. Some people decide to only eat one meal per day, while others choose to fast on certain days. Fasting is intended to cleanse the body and mind so that one might have a deeper relationship with God.
Another ritual associated with Shardiya Navratri is the construction of a temporary shrine honouring Goddess Durga. The goddess' idol or figure is decorated with flowers, candles, and other gifts. To obtain the goddess's blessings, devotees recite prayers, sing bhajans (devotional songs), and engage in aarti (rituals involving the waving of lamps).
Garba and Dandiya Raas: The Cultural Extravaganza
Shardiya Navratri is a festival that honours dance and culture in addition to religion. It is often associated with the Garba and Dandiya Raas dances in Gujarat. These vibrant and vivacious dance styles are performed in circles to represent the cyclical nature of life, and people of all ages take part in them.
Durga Puja in West Bengal
While Navratri is enthusiastically observed throughout India, West Bengal's Durga Puja is particularly well-known. The event features gorgeous statues of Goddess Durga, elaborate pandals (temporary buildings), and a variety of traditional acts. During this period, Kolkata comes to life with art, music, and celebrations.
Vijaya Dashami: The Grand Finale
The celebration of Lord Rama's victory over the demon king Ravana is commemorated on the tenth day of Shardiya Navratri, which is also known as Vijaya Dashami or Dussehra. In some regions of India, Ravana effigies are burned to represent the victory of good over evil.
Shardiya Navratri 2023: An Auspicious Confluence
Shardiya Navratri 2023 holds a special significance as it coincides with several other important festivals and events:
Gandhi Jayanti: October 2nd, the birthday of Mahatma Gandhi, is a national holiday in India.
Mahalaya: The day that signifies the start of Devi Paksha and the conclusion of Pitru Paksha, a period when people pay tribute to their ancestors.
Sharad Purnima: The custom of making and eating kheer (a delicious rice pudding) is observed on the day of the full moon during Navratri.
Dussehra: As previously mentioned, the grand finale of Navratri and the victory of good over evil.
Conclusion
Shardiya Navratri is a season of dedication, joy, and rich cultural diversity. Due to the confluence of numerous festivals and events, 2023 is expected to be an even more fortunate year. It's a time when people congregate to ask for the divine's blessings and to rejoice in the victory of good over evil. Navratri continues to play a significant role in India's cultural and spiritual fabric, whether through ancient rites or cultural celebrations. Let Shardiya Navratri 2023's vibrant hues, bright lights, and devotional spirit infuse your life with joy and heavenly grace.