The Hottest Makeup Trends for New Year Party Season
Categories: Beauty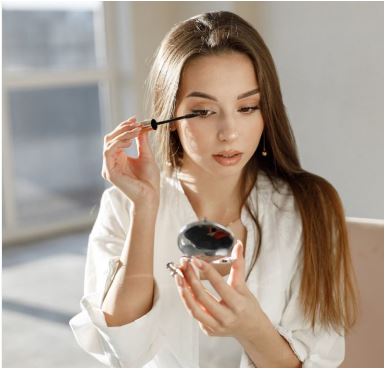 The night of New Year's Eve is ideal for dramatic makeup looks. Why not express yourself with a striking and opulent outfit on this night of celebration and fun? We have everything you need in case you need inspiration. Here are the hottest makeup trends for the New Year party season:
1. Bold Lips
A statement lip is a timeless choice for New Year's Eve makeup. Bright, jewel-toned colours like emerald green, fuchsia, and red are popular this year. You may even try wearing black lipstick if you're feeling particularly brave. When wearing a strong lip, opt for subtle and uncomplicated eye makeup.
2. Shimmery Eyes
Another New Year's Eve staple is shimmery eyes. This year, we're seeing a lot of metallic and holographic shades. For a truly eye-catching look, try a smoky eye with multiple shimmery shades. You can also add a pop of glitter to your inner corners or lash line.
3. Glittery Brows
Consider dazzling brows for a distinctive and striking cosmetic style. The key to this style is to give your brows a hint of sparkle for a glitzy, celebratory appearance. Just dust your brows with a glitter brow powder or gel to achieve the look.
4. Neon Makeup
Another striking look that's ideal for New Year's Eve is neon makeup. Neon lipstick, eyeliner, and eyeshadow are really popular this year. If you're not sure how to apply neon makeup, start with a lip gloss or eyeliner that just adds a subtle burst of colour. To achieve a playful and festive eye look, you can also experiment with a neon eyeshadow palette.
5. Graphic Eyeliner
An exciting and fashionable approach to inject some individuality into your New Year's Eve makeup look is with graphic eyeliner. Many distinct graphic eyeliner styles, such as cat eyes, wingtip eyeliner, and double-winged eyeliner, are popular this year. In order to create a distinctive style, you can also experiment with different colours and finishes.
6. Glazed Donut Skin
A dewy, radiant complexion that's ideal for New Year's Eve is glazed donut skin. Creating a glow that looks natural with a touch of shimmer is the main goal of this style. Start with a moisturising skincare regimen to achieve the appearance. Next, use a tinted moisturiser or a light foundation. Lastly, use a little highlighter on the bridge of your nose, your brow bones, and your cheekbones.
7. Contoured Cheeks
Having cheeks with contours is a fantastic method to give your face structure and shape. When it comes to looking your best on New Year's Eve, this trend is ideal. Use a bronzer or contour powder to the hollows of your cheeks and temples to define your cheekbones. After that, smooth down the edges for a finish that looks natural.
8. Highlighted Blush
A festive and enjoyable approach to give your cheeks a splash of colour is with highlighted blush. The main idea behind this trend is to accentuate your cheekbones after blushing. This leaves your cheeks looking radiant and dewy.
9. Nude Lipstick
A timeless and adaptable style that works for every occasion is naked lipstick. For a glitzy and elegant look this New Year's Eve, consider combining a bold eye look with bare lipstick.
10. Faux Lashes
Using faux lashes is a fantastic method to give your lashes more volume and drama. If you want your eyes to pop on New Year's Eve, this trend is ideal. Applying fake lashes is as easy as trimming them to match your lash line and using lash adhesive.
New Year's Eve Makeup Trend: Daring Black Lips
Try a black lipstick if you want a very daring and glitzy New Year's Eve makeup look. The key to this trend is to embrace your inner dark side and create an elegant yet edgy look.
Start with an impeccable base if you want to wear black lipstick like an expert. To cover up any blemishes and level up your skin tone, use concealer and full-coverage foundation. After that, use a powder to set your base.
Makeup for your eyes should be subtle and easy to apply. A neutral-toned smokey eye is a fantastic choice. After covering your entire eyelid with a light brown makeup, mix a darker brown shade into the crease and outer corner of your eye. Give your brow bone and inner corner a hint of glimmer.
The major event, the black lipstick, is about to happen. Using a lip brush, apply the lipstick straight to your lips. Use a black lip pencil to outline your lips before applying lipstick for a more accurate application.
Apply a hint of blush to your cheekbones and emphasise the prominent features of your face to complete the appearance.
Tips for Wearing Black Lipstick
© Select a black lipstick with a blue or crimson undertone to prevent seeming too gothic. Your complexion will appear more radiant and your lips will appear more natural as a result.
© Applying black lipstick might be tricky at first. Start with a small layer then build it up until you get the right intensity.
©If you make a mistake, don't worry. Simply wipe away the lipstick with a cotton swab dipped in makeup remover.
Tips for Creating a New Year's Eve Makeup Look
Here are a few tips for creating a New Year's Eve makeup look:
© Start by washing and moisturising your face. This will facilitate flawless makeup application and extended wear.
©Use a primer to help your makeup stay in place all night long.
©Choose waterproof makeup products to avoid smudging and melting.
© To make your makeup last longer, set it with a powder.
© Try experimenting with various colours and finishes without fear. It's ideal to go all out with cosmetics on New Year's Eve.
Conclusion:
Whatever your unique style, there's a makeup look for New Year's Eve that's ideal for you. There are countless options, whether your style is a bold and colourful eye look or a traditional red lip. So have fun and play around to get a look you'll adore.